Secretary of State Websites
Internic Whois
Network Solutions WhoIs




IP2Location Lookup
ARIN IP LookupBalsam v. Trancos Inc.: The Insider's Perspective on the First Spam Trial in California (Trial Lawyer, Summer 2012) [This article is hosted at www.calspam.com]


Spam, Spam, and More Spam
(California Lawyer, June 2011)
Making Spammers Pay
(CNN, 1/8/2011)
Man Quits Job, Makes Living Suing Email Spammers
(Yahoo/AP, 12/26/2010)
You Don't Wanna Mess With Dan, Who Hates Spam
(Legal Pad, 6/8/2010)


Anti-Spam Crusader Beats Spammers in Court
(SF Weekly, 3/17/10)
SF Lawyer Awarded $7K From Email Spammer
(SFGate, 3/16/10)
Bill Toughening Anti-Spam Law in Works
(SFGate, 4/18/08)
Fighting Back Against Spam
(ABC7 News L.A., 7/29/03)




Spam's Big Bang
(Time, 6/16/03)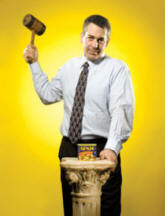 The endless pitches to refinance my mortgage (which I don't have) or get university degrees (of which I already have three) or buy counterfeit software or enlarge certain body parts… not to mention the porn… are offensive and, in many states, like California, illegal.

Why does spam exist? It sure wasn't the intent of the people who designed the Internet and email. With origins in academia and defense, the Internet was set up so that there is no variable (i.e., per email) cost to the sender to send a message. The unfortunate result is that spammers, the scum of the Internet, can blast millions of untargeted, offensive emails for their own financial gain, and you, the recipient, end up paying for the spam. And by the way, spam now comprises 90+% of all email.

Smarter people than I have created some decent technological solutions to the spam problem – click the "Why Spam Sucks" button for more on this. I choose to attack the problem from the legal side. Why? Because judgments (or pre-trial settlements) hit spammers, or the marketers who choose to use spammers, directly in their pocketbooks. My objective in getting into this was – and still is – to increase the spammers' cost of doing business. Maybe then the spammers won't falsify headers, and maybe they'll think twice before spamming even after a recipient unsubscribes, and maybe the legitimate and "quasi-legitimate" marketers will think twice before purchasing lists of allegedly opt-in email addresses. If lots of people start suing the spammers, and the principals that benefit from spamming, maybe it'll make a difference.





I've been storing and tracking spam since the spring of 2002. I have dozens of small claims judgments against spammers, and several judgments in superior and federal court too. Plus a number of settlements/resolutions for which I can't share details. And – with my attorneys – more cases that are in various stages of development.





Unfortunately, our federal government passed the CAN-SPAM Act of 2003, which is not particularly good, from a consumer perspective. The idea of stopping spam is of course great. But there are a lot of problems with it, and the worst part is that it attempts to pre-empt the state laws, some of which – like California, Virginia, Washington, and others – have actually made an impact. But, there is an exception to preemption. CAN-SPAM does not pre-empt anti-spam state laws that prohibit falsity & deception, which California does (Business & Professions Code §17529.5) – click the "Spam and the Law" button for more detail on this – and so I continue to file lawsuits.

Comment to a CBS Consumer Watch segment about me:

Dan hates SPAM.
Can Dan ban SPAM?
Dan says I can ban SPAM.
Ban that damn SPAM, Dan.
See Dan ban SPAM.
Dan, Dan, he's our man.
Are you a fan of Dan? I am.

I'm highly amused.

You can forward spam to the Federal Trade Commission at spam@uce.gov to help them build their database of bad actors. If you have an idea who the spammer (or spamvertiser) is, you can really have fun by filling out a complaint form at https://www.ftccomplaintassistant.gov/FTC_Wizard.aspx?Lang=en. This information (minus your specific identity) becomes public record that anyone can access who sends a "Freedom of Information Act Request" to the FTC.

I don't like telemarketers either. Click here to register your home/cell phone with the FTC's "Do Not Call" list, or to file a complaint. Telemarketers who call you if you're on the list may be fined up to $11,000.

Along these lines, here's a website with some information on how to sue telemarketers:
www.KillTheCalls.com
Legitimate contacts only:


I also hate forced arbitration clauses in contracts of adhesion that deny consumers the right to fight back. Let's say you sign up for cell phone service. Buried in those pages and pages of tiny print you'll usually find a class action waiver, and a provision that forces you into arbitration for any kind of dispute. It's not like you had any power to negotiate that contract. And it's not like you can go to some other cell phone provider, because they all have comparable language. So if AT&T overcharges you five bucks, you have to shell out hundreds or thousands of dollars in arbitration costs to fight it, which you won't do, and AT&T knows it. So they can get away with overcharging you. This is exactly why class actions exist... so lots of people, each harmed just a little bit, can join together. Which is why the California Supreme Court and the Ninth Circuit said that class action waivers like these are unconscionable and void. But the U.S. Supreme Court says it's too risky to defendants if class action waivers are void. Seems to me what's really risky to defendants is doing bad things that make people want to sue you! Anyway, there's proposed legislation in the works to fix this. Click here to sign Citizen.org's petition to end forced arbitration.
NO SPAM POLICY!!!!
All persons, businesses, and other entities that send any unsolicited commercial email to any email address containing "danbalsam.com" voluntarily enter a contract with Dan Balsam and agree to be bound by the terms of the contract and "No Spam Policy" as described herein.

1. Unless Dan Balsam or someone else with an email address including "danbalsam.com" has specifically opted in to receive commercial email from you, you understand and agree that neither Dan Balsam nor anyone else with an email address including "danbalsam.com" has ever requested any commercial communication from you, and that any commercial email you send that includes "danbalsam.com" in the To, Cc, or Bcc fields that fits these criteria is against the express wishes of the recipient(s).




2. As consideration for reading your unsolicited commercial email, you agree that any email you send which advertises or promotes any product, service, or Internet destination shall be subject to a $25,000.00 fee for reading and responding appropriately. The fee may be paid in advance at PayPal, or Dan Balsam will remit an invoice.




3. You accept responsibility for any affiliates or marketing agents who promote any product, service, or Internet destination on your behalf.




4. Concealing your identity increases the fee by $10,000.00 to compensate for the effort to track down the sender.




5. You may not sell, barter, or give away to any other party any email addresses containing the domain name "danbalsam.com." Violation of this clause subjects you to liquidated damages of $10,000.00 or ten (10) times the amount of money you made selling the address(es), whichever is greater.




6. You agree that California Business & Professions Code §17529.5 is not pre-empted by the Federal CAN-SPAM Act, 15 U.S.C. § 7701 et seq.




7. In the event that any suit or action is instituted to enforce any provision in this contract, Dan Balsam shall be entitled to all costs and expenses of maintaining such suit or action, including reasonable attorneys' fees.




8. This contract shall inure to the benefit of and be binding upon the parties hereto and their respective heirs, successors, assigns, administrators, executors and other legal representatives.




9. Any action in respect of or concerning this contract shall be litigated solely in California and both parties consent to jurisdiction in California. This contract shall be governed by, construed and enforced in accordance with the laws of the State of California.




10. Sending email to or copying to or blind copying to any email address containing the domain name "danbalsam.com," or similar actions by your affiliates/agents, constitutes voluntary acceptance of these terms.





Copyright © 2002-present, Daniel Balsam